What is the first thing that comes to mind when thinking about retirement gifts? A gold watch. and possibly a plaque that commemorates many years of service, are traditional personalized retirement gifts. But nowadays these gifts have been replaced with more unusual and unique items.
A gold watch and a plaque, that says thanks for all your hard work, don't hold the same meaning they once did. This is because a lifetime working for the same company doesn't happen the way it did previously. On average a worker can have several jobs throughout their working career, and several decades doing the same job is quite a rare event. Therefore, when buying a retirement gift for a man or a woman, you should pick something that celebrates the whole of their career.
If you want to give a gold watch or commemorative plaque for a retirement gift there's nothing stopping you. However, keep reading and you'll come to realize there are so many other options.
Top 10 ideas for personalized retirement gifts
Retirement gifts come in many shapes and sizes. Here are our top ten personalized retirement gift ideas:
Jewelry – Jewelry is a suitable gift for many different occasions. And it works equally well as a retirement gift for a woman, as it does for a man. Add some personalization to the item with a meaningful message or simply add the retirees name, initials, or date of their retirement. One of our favorite types of jewelry is a pendant that has been made using real rose petals. It's beauty is exquisite, and for the lady that loves flowers this will an everlasting gift.
Engraved clocks – If you like the idea of a timepiece, but would prefer to be more original than a gold watch, then consider an engraved clock instead. There are so many different makes and models that it's easy to pick a truly unique gift. Marble, mahogany, glass, silver or gold, the options are endless. Add an inspirational message, and it will turn a simple gift into a meaningful treasure.
Gold dipped golf ball and tee set – If the retiring person is a lover of golf give them a gold dipped golf ball and tee set. There are two possible options: one that is designed as an ornament and one that is designed to be played with. If the retiree is still working on his handicap you might consider one that will be kept at home, rather than run the risk of your gift getting lost in the rough or a bunker.
Pocket watch – Pocket watches are still a very special gift to give and will definitely stand out from the crowd. There are places for personalization both on the back, front, and on the watch itself. As well as having the watch engraved it may also be possible to have an image embossed onto the watch itself. And pocket watches are the kind of gift that can be passed down from generation to generation.
Money clip or leather wallet – This is a very affordable personalized retirement present, but is more suited to a man. Even though money clips have been replaced by wallets and digital cash, there are still many men that prefer to carry their cash in a money clip. They aren't very big so any engraving will have to be brief and to the point. And if you know the retiree won't be impressed with a money clip for a retirement gift there is the alternative: a personalized leather wallet.
Personalized vases – Vases don't always need to be filled with a bouquet of flowers in order to look beautiful. Pick the right one for the retirees taste and it will be given pride of place in their home. This is another gift that's available in a wide range of sizes, styles and shapes so there shouldn't be a problem finding the perfect retirement gift. Have a special message engraved onto the vase, and if you want to add a little extra, ask for gold leaf decoration.
Photo frames – Personalized picture frames are a great option if you're on a tight budget. They can easily be personalized with a photograph of the retiree, their family or a photo of the team all together. Engravings can also be added, but you might find that space is a little limited. We don't happen to think there is a need for additional engraving, as photographs are a brilliant way of recalling personal fond moments. Available in wood, metal, or glass you'll be able to find the right one regardless of your budget.
Personalized pen – Once again this is the kind of gift that is available in a wide range of styles, colors, and materials. It can be given as a stand alone item, or part of a set that includes ink pen, and retractable pencil. A pen set that will be given pride of place on the retirees desk at home is a worthwhile gift.
Trinket box – This is a perfect personalized retirement gift because it will provide the retiree with a meaning place to store some treasured items. This type of gift can be made from a number of different materials such as wood, glass, precious metals, and even paper. And there are lots of ways to add personalization. Not just by getting it engraved, but also by adding a musical component, jewels, mirrors, or by filling it with inspirational messages from friends, family and co-workers.
Engraved glasses – Retirement is an occasion worthy of a toast, so give the retiree something memorable to hold that drink. Glasses, decanters, tankards or flutes can all be decorated with an engraving or embossed with a special design or message. Keep in mind the preferences of the recipient. If they are a beer drinker then champagne flutes will only end up sat in a cupboard, and if they love a glass of wine then a tankard won't be appreciated.
Personalization will add a special touch to your retirement gift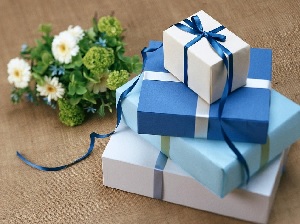 Nowadays, it is very easy to add a personal touch to most types of gifts. The giver of a personalized gift can show how creative they can be and give a gift that will last a lifetime, and possibly even beyond. As many of the personalized gifts are so special they can be handed down through the family. The simplest and smallest of gifts can be made really memorable with the addition of an engraving or thoughtful message. There are a few things you should bear in mind when ordering personalized gifts.
Double and triple check your spelling, dates and wording – The retailer will follow your instructions to the letter, so make sure everything is spelt correctly, and be aware that many will not accept returned items if they have been personalized.
Ordering online – This is a great way to do your gift buying, as most online retailers will give you the option of previewing your personalization before you place the order.
Don't leave it till the last minute – Make sure you check turnaround times as a personalized gift will take longer.
Shop around – Prices can vary considerably, so make sure you compare retailers. Some charge by the letter, some by the word, and there are some that personalize free of charge.
Use a trustworthy retailer – Only order from a trusted website.
Check the returns policy – Many retailers don't allow personalized gifts to be returned, unless the issue is something that wasn't your fault. Such as damage during shipping.
You might be thinking that personalized retirement gifts are going to be expensive, but you couldn't be further from the truth. There are so many different options there will be no problem finding a retirement gift that suits your pocket. Consider the options we've already mentioned and you may find the perfect retirement gift has been waiting.